"They are in the business of making dreams come true and they are better at it than anyone!"
Janis Nowlan Band
Live Music For The Celebration Of Your Dreams
Free Showcase Wednesday November 8, 2017
Rsvp Janis@JanisNowlan.com
With amazing singers, powerhouse horns, keyboards, guitar, bass, drums, percussion, congas, and a spectacular repertoire of latest hits and irresistible favorites melding genres and generations of all the best music to dance to, Award Winning Janis Nowlan Band is uncommonly entertaining, phenomenally engaging, and so fun!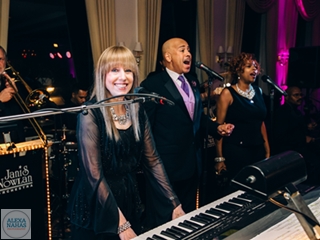 Janis Nowlan Band keeps your party smooth & energized, and your guests entertained & engaged. Ceremony, Cocktails, Dinner & Dance Party Reception, Janis Nowlan Band is ​Continuous Live Music Entertainment for an unforgettable day that Brides, Grooms, Parents & Guests all rave about!​
Janis Nowlan Band 10 Times Winner Of The Knot Pick Best Of Weddings, The Knot Best Of Weddings Hall Of Fame Inaugural Honoree, WeddingWire Couples' Choice / Bride's Choice 7th Year, NBC America's 15 Best Wedding Bands Best Greater Philadelphia Wedding Band.
"No surprise that they have won 'Best of.. .' awards for Weddings and Dance Parties year after year – they're UBER talented, totally engaging with their audience, and their play list melds generations together...Next time you get a wedding invitation, ask who's doing the music...if it's Janis Nowlan, check the 'Will Attend' box and go party..." - MainLineBiz.com
Janis Nowlan Band Rock Your Wedding Day Showcase
Wednesday November 8, 2017
Meet & Greet Reception 7:30-8pm
One Hour Live Show 8-9pm
Yes, Your Family & Friends Are Welcome!
Rsvp Janis@JanisNowlan.com
Bookings, Phone Janis 610-296-2626