Janis Nowlan Band Chosen By NBC "America's 15 Best Wedding Bands"
Janis Nowlan Band Live Showcase!
3:30pm Sunday September 14th 2014
The First Philadelphia / Delaware Band Voted Into The Knot
BEST OF WEDDINGS HALL OF FAME
Based On Years Of Verified Reviews By Local Brides!

Families & Friends Are Welcome!
Crowne Plaza Valley Forge Hotel
260 Mall Boulevard
(Next To The King Of Prussia Mall)
King Of Prussia, PA 19406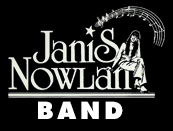 May 10, 2014 Wedding
I have actually had the pleasure of experiencing the Janis Nowlan Band on 3 occasions since 2008. As a result of my first attendance at an event where they were playing, I have since hired her two more times for events, including my wedding a little over a week ago. The Janis Nowlan Band is amazing. They change their set list on the fly depending on what the guests are reacting to. This, in my opinion, is far better than sticking to some stuffy set list that no one (apparently) wants to dance to. Janis even made the decision during my wedding to extend the father-daughter dance because, due to some extenuating circumstances, she had a feeling something might change during the dance. Because of Janis' gut instinct, she was right. Things did change and as a result, the dance ended up perfect!
As a result of Janis' and the entire band's ability to read the crowd, my entire guest list, including people who self-profess not to dance, spent the majority of the evening on the dance floor! We have gotten rave reviews about how much fun our wedding was, mainly because of the Janis Nowlan Band. We will be forever grateful. I just can't say enough about how amazing this band is!
While Janis is sit

pard

uated outside of Philadelphia, she will travel, and did – all the way to Greenwich, CT for us. So if you are having an event within a reasonable driving distance, you can't go wrong with the Janis Nowlan Band if you want it to be a memorable event! Just make sure you book her early because her time fills up fast!
Oh, and one more thing – if you hire Janis and you need to put down your own dance floor, err on the side of bigger rather than smaller. Trust me, you'll use it!
- Wendy
Wedding: 1/4/2014
Fantastic Band. Nonstop dancing the whole night!
Paul and I had an amazing time at our wedding!!! We LOVEDDD the band and the guests could not stop raving about how wonderful ALL the music was. The dance floor was nonstop all night and anytime I went to take a break I couldn't because it was another great song. It was so packed. People had so much fun. I really couldn't imagine a better band. SIMPLY AMAZING!!! Janis was wonderful to work with throughout this whole process. So professional. So fun! Loved it, loved it, loved it. Janis Nowlan and her bandmates are great performers. They were great and it must be fulfilling for them to bring so much joy to people!!! On a special note, they let my sisters join them to perform our first dance! It really meant so much to them and to me. Also, a word of advice--- Janis knows her stuff. We had no real play lists. Just let her take the lead and you'll be happy.
---- Kiera and Paul McElrone
Wedding: 11/16/2013
The Best!
Words cannot express how amazing Janis Nowlan Band is. The music was such a hit at our wedding and all of our guests are still talking about it! Their energy and talent had everyone on the dance floor all night.
Janis is so wonderful to work with. She gave me great suggestions for entrance songs and her band learned the song we wanted as our first dance song. It came out perfect- I could not have asked for better!
I highly recommend Janis Nowlan Band! They make your wedding day extra special. I cannot thank them enough for making our wedding day so special!
Wedding: 10/5/2013
Best Wedding Band
I can't begin to tell you how many people have complimented us on how "amazing the band was" at our wedding. No one sat down the entire time and they played great music- classics to current pop. I can't say enough about how happy I am that I booked The JNB EARLY! Janis is also VERY organized which was very helpful during the stressful planning period. You can't go wrong- book early!
Wedding: 11/30/2013
Best Band Ever
For someone who said the number one thing that he was looking forward to at the wedding reception was the band, the fact that the Janis Nowlan Band met and exceeded my expectations says big things about them. The band not only learned our wedding song, but they rocked it. They hit every song we threw at them, keeping the energy of the night at the right level every time. As a music critic, I couldn't have been more happy, with every instrument coming across clean. My mom and I did "Moon River" for our song and it will be something we will have to cherish forever. Thank you Janis and band!!!
Wedding: 11/30/2013
If you haven't seen Janis Nowlan Band, you are missing out!!
Janis Nowlan Band MADE our wedding. 14 years ago they played for my sister's wedding and 14 years later people are still talking about it. That was the band my now husband and I wanted, and now our guests are and will be talking about Janis's band for years to come! They were the first band we went to listen to and they were the last band we came back to. By far THE best wedding band you could ever have!
My husband and I are deeply vested into music and we wanted a band that would knock the socks off of our family and friends. Janis Nowlan came with 200% energy, and ended the party with the same! They are extremely talented musicians and vocalists and played non-stop, keeping the dance floor alive and packed the entire night. They learned our wedding song that 99% of our guests did not know, an 'indie' song, and nailed it spot-on. Several of our friends came up to us noting how beautifully played it was!!
We could not have asked for a better, more energetic, more talented, and awesome band to play for our wedding day! If you haven't checked them out, you are missing out. Thank you Janis Nowlan Band for everything you did to make our day THE BEST EVER!!!
Wedding: 8/30/2013
A blast!
Awesome energy, kept everyone on the dance floor the ENTIRE night, large catalog of songs, willing to learn new songs, Janis does an awesome job of MCing the event. Several friends have asked about the band because of their time at our wedding. THANK you Janis and team for an amazing night we had a blast and so did all our guests!!!
Wedding: 11/30/2013
The BEST BAND/ORCHESTRA IN THE USA!
In my opinion and that of our 210 guests, this is best band that they or we have ever heard. This was our SECOND TIME using Janis and her 12 member band. Yes, 12. The first time was in March 1999 for our eldest daughter, and ever since that wedding, our guests have said that they still have never heard a more talented group of musicians and vocalists than Janis's in 1999. Therefore for our second daughter's wedding in Nov 2013, there was no doubt that we wanted to have her play again! Our guests were thrilled to be treated to a second "concert" by the Janis Nowlan Orchestra! YES, they wowed everyone, and there was not one moment without her magical mixture of music from beginning to end!
Her forte is her extensive repertoire of songs! Janis is a true professional, courteous, and well-organized. She is flexible and listens closely to what your desires are! She is a wonderful emcee as well.
She cares sincerely about every bride and groom and the wedding guests. This isn't just a "gig" for her. She loves what she does, and her joy and excitement as well as that of the band is ever present!! She is a lovely, lovely person. She sings herself and plays the piano.
Her band members are so talented! Janis utilizes well the strengths of the horn sections, the amazing drummer, and her 3 incredible vocalists. The choreography is spectacular! You would think
you were at a concert! Our guests enjoyed a full night of dancing!
I have already told Janis that when our last child gets married, she has to return again!!
Wedding: 9/13/2013
Fantastic!!
I cannot say enough great things about Janis Nowlan Band. They were absolutely fantastic! The music was such a hit at our wedding. Every time someone commented on how much fun they had at our wedding, they mentioned how great the band was.
This band can play practically anything. We liked a mix of new and old music. They were able to go back and forth between both with no problem at all. I provided a lot of suggestions of what kind of music my family like, and they created a set list that had everyone dancing all night long. I didn't even need to provide that many selections. I just told Janis a few of my favorites and she knew exactly the kind of party we expected.
Also, they don't sound like an ordinary wedding band. They're voices are great and the musicians are awesome. The sound that was coming out of them was unbelievable. I was impressed with some of the more current dance music they were even able to pull off.
When picking out our special songs, Janis was a big help. I didn't have anything picked out besides our first dance and she was great at providing suggestions for introductions, parent dances, cake cutting, everything. It saved me a lot of time and her suggestions were perfect.
Everyone was non-stop dancing from the moment the party started until the party ended. I would love to relive the whole thing so I could dance and listen to the music again.
Janis Nowlan Band was one of the highlights of our wedding. All I cared about was good food and great music. Well they definitely fulfilled the great music criteria. They are pricey, like most bands, but totally worth the splurge. If you splurge on anything, get this band! They are totally worth it!!
Wedding: 6/23/2013
Janis Nowlan Band
We went to a wedding two years ago that used Janis Nowlan band, we fell in love. When it was time to plan our wedding, we had to choose Janis Nowlan. Our wedding was amazing and Janis kept the party going the entire night. Janis Nowlan band plays every kind of song that will appeal to everyone.
Amazing!
Janis and her band were wonderful!!! Janice was so organized and so excited for us from the very beginning. She went over everything with our planner to make sure they were on top of everything and the timing would work out. The jazz trio at cocktail hour was perfect and exactly what were hoping for. The band for the rest of the night was wonderful!!! They got every person at our wedding on the dance floor for the entire night! they kept that party going for hours and were amazing! Everyone loved them and we couldn't have been happier!!!
Wedding: 6/8/2013
Best Dance Party!!!!!!!
I wanted to save money and hire a DJ, but my husband was adamant about hiring a band...I am so glad I listened to him! The Janis Nowland Band was incredible!!!!!!!!! They have this unbelievable power to get everyone on the dance floor. Friends that I have never seen dance before were strutting their stuff all night long!!! We sent Janis a list of songs that we liked, and she put them into the perfect order to dance to at the reception. They have an extensive list of songs that they play on their website, but Janis assured us that if there was a song we wanted that was not on their list, the band will take the time to learn it...I thought that was the greatest thing!!!!! The entire band was a pleasure to work with!
Wedding: 6/21/2013
Couldn't have asked for more
Janis and her band were brilliant.
My wife and I couldn't have asked for more from them. Janis personally called months before the wedding to check in on us and did the same as the day got closer to lock in our song selections. My wife and I provided a song list and, to her word, Janis and her band stuck to it faithfully, while also spicing it up with a few selections of her own.
Janis has been and will be our recommendation to any friends who are planning a wedding.
Wedding: 6/21/2013
My Dream Wedding
The biggest priority on my list was to have an amazing band to get the party started. Janis Nowlan Band went beyond that. They fulfilled every need we had. The music was unbelievable. All 200 guests were up dancing and did not come close to sitting down. If a bride wants to have the best time of her life for herself and her guests, you must book this band. They truly are the nicest, most talented individuals I have encountered. No other wedding band comes close to the quality and performance of the Janis Nowlan Band.
Wedding: 6/21/2013
Janis Nowlan Band "Party With The Best!"
For those of you who are planning a wedding and are deciding on their music, look no further. I encourage you to check out the "Janis Nowlan Band". My daughter recently got married to the love of her life in June, 2013 and Janis made our planning stress free. The music was awesome and everyone was up dancing all night. She and her band never once took a break.
I can't thank them enough for making this wedding day extra special. Check them out and you'll see some extremely talented people.
NE Philly Mom
Wedding: 7/27/2013
couldn't ask for more!
Janis is so easy to work with, she gave me great suggestions when I needed them and was able to meet all of our requests even when they were a little last minute.
Our guests were so impressed with the variety the band was able to play, and play WELL which is so much more important!
Thank you Janis!
Wedding: 7/19/2013
Simply AMAZING!!!!!!!!!
Janis is simply magnificent so professoional, reliable and amazingly talented! She and her band put on a great party! Our wedding was the best night of our life and all the thanks to Janis Nowlan Band! With the help she helped us plan a special first dance and she and my husband planned a very special secert surprise with my husband singing with the band to me, he blew all 200 people away! She will deliver always a top notch five star performance!!!! Everyone will be out of their seats the whole night having the time of their life, you can't go Wrong the Janis Nowlan Band!!
Wedding: 6/29/2013
Dance Party!
There was not a space open on the dance floor. Janis Nowlan Band delivered a top-notch dance party experience at my wedding this past June. My guests are still talking about how fantastic the band was. Janis was great to work with and kept in touch in the months leading up to my wedding to make sure all of my requests were met and questions were answered. Janis and her band were very accommodating and even put together a specially requested mash-up of a song for the Mother of the Groom/Groom dance. The band paid attention to the vibe from the crowd and played non-stop the whole night keeping the party going. Having 11+ members including horns, bongo drums and 3 fabulous front singers made the songs sound amazing. I would highly recommend Janis Nowlan Band for any event. If you want a dance party, this band is the band for you!
Wedding: 7/21/2013
Janis Nowlan Rocks!
Simply the Best!! We have now used the Janis Nowlan Band for both of our children's wedding. This band is fantastic. They are true professionals and make the party so fun. Everyone was up dancing and having a great time. This band will learn songs that you request and they are wonderful and reliable to deal with. Your wedding will be great!
Wedding: 7/20/2013
Awesome Band!
Janis Nowlan Band is the best! We decided to have them for our wedding after seeing them at another wedding and they were amazing both times! Everyone was dancing and having a great time!
Wedding: 4/15/2013
The AMAZING Janis Nowlan Band!!
I don't even know how I can put into words how AMAZING Janis and the band were for our wedding! Janis is professional, efficient, and most importantly fun! She listens to what you have to say but also gives her opinion on options...and believe me, you should go with what she says! She knows what she is doing...her suggestions for song choices and timelines were spot on! I still have guests calling about THE BAND!!! and even some of the specific songs! Literally our entire crowd was dancing all night long. Each singer and band member were just so perfect...and looked like they were having fun right with us! We are beyond thankful...our wedding was perfect much in part to them...they kept everything going. And I will NEVER forget our first dance song!
Best Philadelphia Wedding Band